Live CCTV Streaming For Preschool & Daycare
The Real-Time live CCTV feed enriches parents' experience to watch the growth, progress, behavior, and fun moments of their tiny tots. Live CCTV access assures parents about the safety and security of their kids and ensures that preschool is confident of its services and transparent in its business approach. This improved brand value increases enrolments, resulting in growth and increased revenue for the preschool/daycare.
Using camncloud's 3rd party API's live school provides streaming for analog and IP surveillance cameras. The admin can stop or start any camera with a simple click with built-in camera control.
Below are the significant features of our CCTV streaming solution: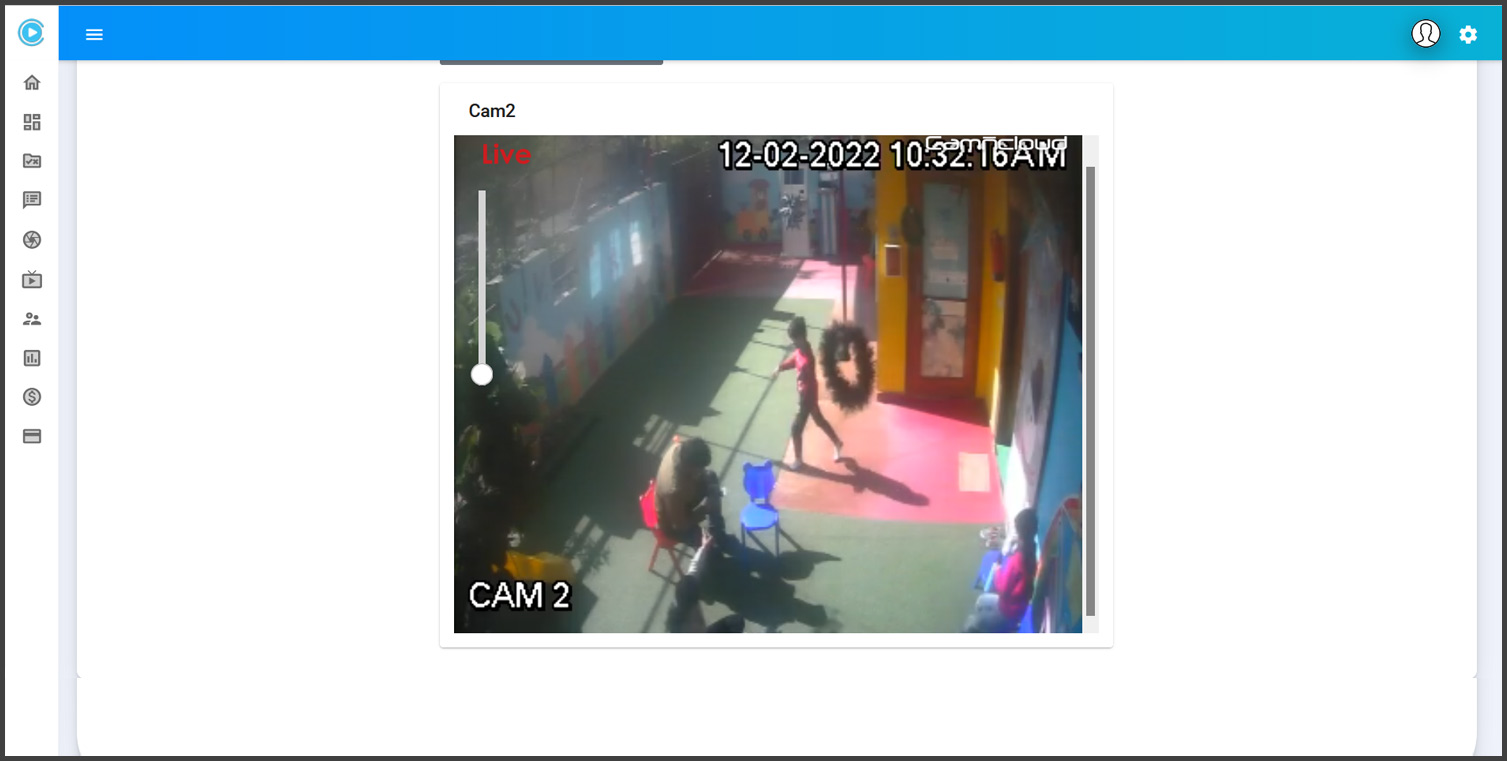 Live CCTV Streaming
Features
Live Streaming - Analogue / IP Cam
Using Live School, Schools can stream from Analog or IP cameras. We support all major brands, which means you need not upgrade your current hardware, reducing your technology adoption cost.
Unlimited Number of Viewers
Using Live School, you can stream your CCTV stream to any number of users. Only the permitted user can access the camera streaming. Users load is taken care by the live school server.
Easy Start - Stop of Cam Streaming
It's easy to start or stop live streaming from the APP or web interface. These controls are available to the admin and center in charge. Parents can view cams only when set ON by the school.
Unlimited Live Channels / Cameras
After the first camera set-up is done, by Live School, the admin and inchcarge can add a new camera and auto configure the sreaming from a simple click of a button.
Live school CCTV streaming billing is done on a "pay what you use" basis. The billing is done on per minute usage basis. It means there is no billing for week offs and holidays.
Weekday / Minute wise Scheduler
Live Streaming scheduler, from Camncloud , provides a simple system to automate the daily streaming as per school needs. The scheduler can be used to on/off camera, by itself, every day.
Protected from Open Public Access
Live Cams on Live School are protected to ensure only the authorized people access the camera stream. If the school wants, they can use cameras for open public access and marketing.
The live stream is supported across all platforms, making it easy to implement for all users. Interface for users on IOS and Android App is similar, ensuring better user experience.
The live stream is supported on all ISPs. The user gets the stream from/on broadband or 4G. The Live School also works if the ISP blocks the streaming for some reason.
---
Our Services
FAQ
Following are the must-haves to start Live CCTV Streaming from your preschool
Active Internet Connection
CCTV Camera - Should be connected to Internet Router
Login Credentials for DVR (Digital Video Recorder) and ISP Router
We do not require a fixed IP for school, which would have added additional school costs.
Reach to us
Live CCTV For Your Business
Or - Embeed It in your APP / Platform Using Our APIs !