Self Learning & Practice Platform
Education has evolved a lot in the last few years, and technology has become a significant part of it. Home schooling is gaining popularity and, indeed, is giving a tough competition to the traditional schooling. In this scenario, the quality of learning material, possibility of undertaking multiple practices and opportunity of self-evaluation is bothering the care providers.
As the adage says, "Practice makes the man perfect," students must get sumptuous opportunity to practice and get to know their mistakes and the ways to avoid them.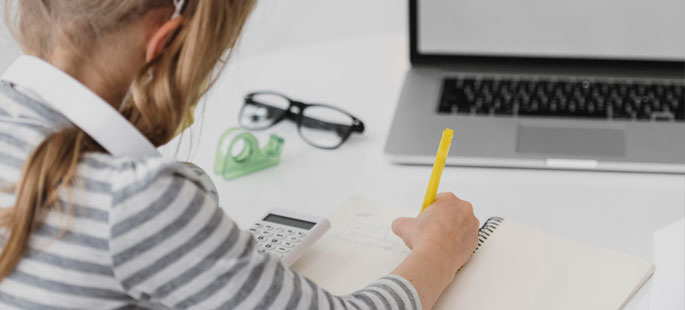 Live School takes care of all these concerns. Our AI-powered Online assessment with unlimited exercises enables students to attain intense knowledge of all the subjects. These continually updated content provides the best possible learning opportunities to the students. At present, we provide content on Maths, which is crucial at varied competitive stages of learning. However, the content for Science, Logic, English, and other subjects is also on its way.
Self Learning Platform
Features
Unlimited Practice Sessions
There is no end of practice questions. So one can practice as much as they need to master a topic & clear your doubts. You can also choose the size of your practice sessions.
Content is created in real-time by our AI-powered content engine. It auto adapts to student performance and produces fresh content that suits users' learning levels.
Online Assessment with Solution
Live School evaluates student performance in real-time and gives feedback on their performance. Our system also provides the complete solution to each question, enabling better learning.
Complete Student Progress Report
Our LMS tracks the user performance and provides a complete report of their progress over time. These reports help identify the learning growth of the student.
With our detailed reporting, we identify the weaker segment for individual students. The user can then practice those topics more to improve their overall performance.
Practice with / without Timer
To give students a better understanding of the topics and various questions, we provide options to provide practices without a timer. Scores of these do not affect student scores.
We promote a system of learning and not cramming. Hence the system works with the students, providing them fresh and challenging content for improving their performance.
While learning is necessary, it does not have to be boring and unentertaining. With badges, scorecards, and certificates, our content makes learning fun.
---
Track Your Growth & Performance
Continuous Evalution For Home Schoolers
---
Our Services
FAQ
Live School Learning Management Solution currently provides practice material from Class 2 (Two) to Class 6 (Six). However, we update the material daily and intend to cover it until Class 10 (Ten) very soon.
Reach to us
LMS For Your Students
with whitelabel solution of Live School For Your School !